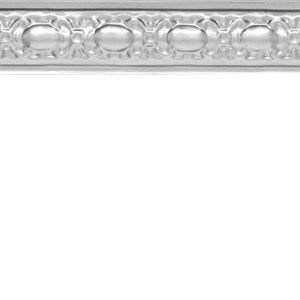 Product Description:
Princess Victoria Tin Ceiling is a range of pressed metal panels ceiling plates that are designed to bring ambiance and class to every space.
They are crafted in over 100 dazzling finishes so as to complement any décor. They are made from premium materials which enhances their strength and durability.
The ceiling panels are 6"x6" tin ceiling designed to suit elegance with utmost simplicity. The tin patterns are sized conveniently to enhance easy installation and fitting unlike other products that may whose installation may be complex and tasking.
The tin ceiling panels are designed with a range of designs and dazzling finishes offering a variety to chose from. The panels are specifically sized so as to fit most backsplash areas minimizing cuts and wastes.
The panels are made from 100% recycled steel which enhances the versatility and flexibility as they can be used on a range of surfaces.
The Princess Victoria Tin Ceiling is a perfect product in transforming any space at an affordable rate.
Cornice: 804
Projection: 4″
Depth: N/A
Length: 48″
Finishes:
Tin
Lacquer/ Clear Coat
Powder Coated White
Copper/Chrome/Brass