Benefits of Spiral Pipe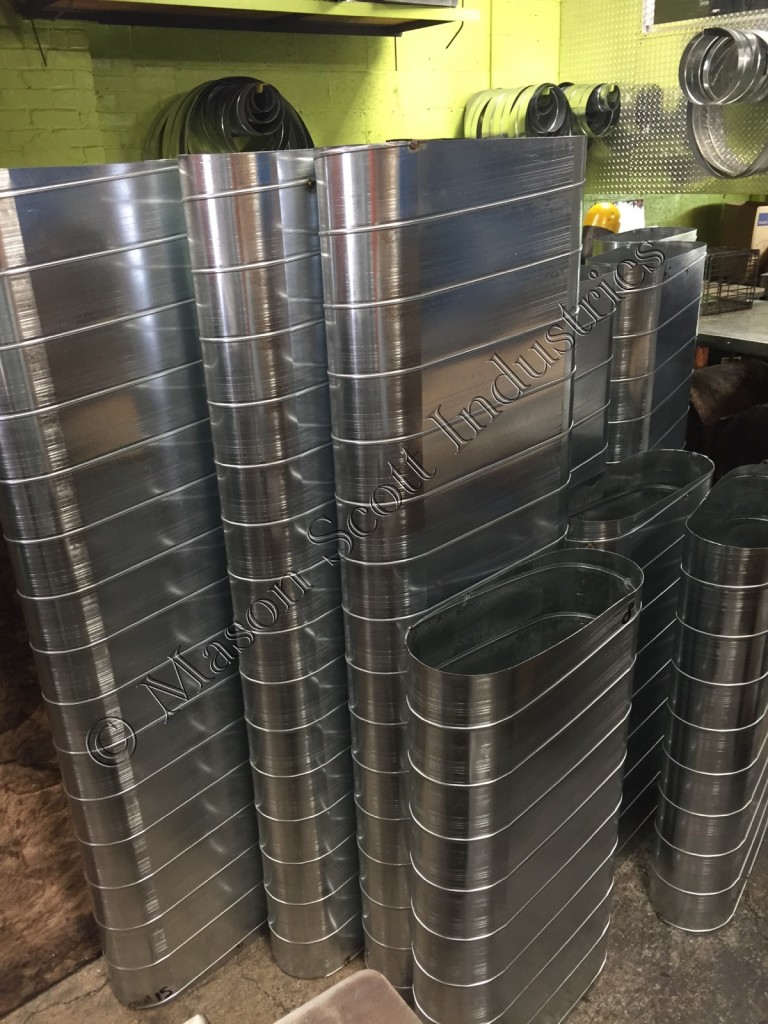 Why Choose Spiral?
As the market continues to grow for Spiral Pipe, you may be asking yourself… Why chose spiral pipe over traditional rectangular ductwork?
There are infinite reasons to chose spiral, here are a few spiral pipe advantages:
Visually Appealing
Spiral pipe provides a clean, contemporary aesthetic that can enhance a buildings architectural features
Paintlock spiral can be painted to blend in with the ceiling, or painted a bold color to stand out as an architectural feature of the room
The strong seams give spiral pipe increased strength and rigidity requiring less supports and hangers and less joints and connections, adding to clean and attractive look
Round duct made with gasketed joints allows the system to stay clean of dirt streaking, and require no messy sealant, also contributing to the clean look for the system
Efficient and Effective
Spiral and Oval can be acoustically lined or fabricated using a double wall system, delivering an acoustic performance comparable with other types of ductwork
Our spiral products boast a very high level of air tightness to prevent duct leakage
Lower airflow resistance in spiral pipe make the system significantly more energy efficient
Cost Effective
Spiral pipe is much easier to clean. making maintenance effortless and less expensive
Spiral duct is often lighter than traditional duct – allowing some sections to be installed by one worker, rather than two, significantly adding to labor savings
Speedy Installation
Standardized components are manufactured with precision, making each joint fit perfectly and installation moves quickly
No sealant is required, speeding installation time
Less hangers and supports needed – saving time and money
---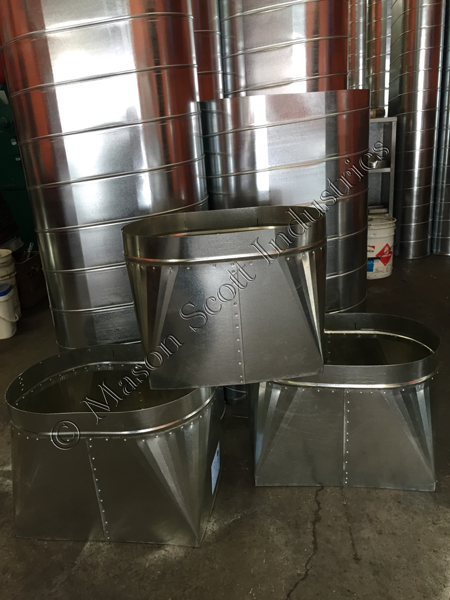 Ducts & Fittings
Manufacturing a variety of commercial and residential air system ducts and fittings, Mason Scott Industries is able to fabricate air duct systems for any application. In addition, we manufacture automatic dampers, louvers, and other HVAC related products.
Spiral & Oval Ducts
Mason Scott Industries manufactures spiral and oval duct and corresponding fittings. Spiral ducts are made in sizes ranging from 4–56-inches around and oval ducts from 20 x 6-inches–65 x 24-inches.
Square Ducts
Using an extremely efficient sheet metal fabrication system, square duct for commercial buildings can be manufactured to the engineer's specifications.
High Efficiency Take-off
HETO is an air-conditioning duct fitting that is used as a take-off from a main branch to the duct system. It is designed to increase efficiency, and reduce static pressure drop. HETO fittings are used in both commercial and residential systems and are standard as per SMANCA standards (Sheet Metal And Air Conditioning Contractor's National Association) for take-off replacements and repairs.
Stick-on Collars
In residential applications our stick-on collars are used as take-off fittings. They have the same application as the commercial take-offs and are easily installed for tight seal.
Automatic Dampers & Louvers
Controlling the amount of air traveling through an air duct system, automatic dampers and motors are supplied by our company. All of our dampers are connected to the thermostat to better control the amount of air sent through the duct system.