We offer a complete line of Scrim Tape, Duct Tape, and Foil Tape. Because we believe in customers' choice; we have a variety of manufacturers' tapes in stock at all times.
Manufactured By:
3M
Ideal Tape Co.
Venture Tape, Inc.
IDEAL FSK Tape

Product Description:
Ideal Tape's 491 is a pressure sensitive tape manufactured with the FSK Foil, skrim and kraft combined with a pressure sensitive adhesive and release liner. 491D is the same product in circular disc form provided in a continuous roll.
Suggested end use:
491 is used for sealing cold and dual temperature duct seams and joints where FSK is the basic insulation facing. The pre-cut discs (491D) are applied over washers and cupped pin heads.  They can also be used to cover any accidental punctures in the facing.  The discs provide an excellent vapor seal when applied to clean, dry surfaces.  Use of applicator (provided) will give best results.

IDEAL Foil Tape
Product Description:
Ideal Tape 288 is a pressure sensitive tape manufactured with a high strength nominal 2.0 mil aluminum foil backing and a performance acrylic adhesive system.
Suggested end use:
Used for sealing seams and as a vapor barrier in duct and pipe insulation systems.
Specifications:
Adhesive type – Solvent Acrylic
Total thickness – 3.0 mil / 0.08 mm
Tensile strength – 17.0 lb./in. / 74 (N/25mm)
Adhesion – 70(oz./in.) / 1,955 (g/25/mm)
Color – Silver
Venture Foil Tape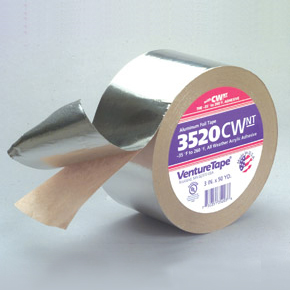 Product Description:
3520CW
Foil Insulation Tape
Venture Tape 3520CW COLD WEATHER FOIL is a 2.0 mil (50 micron) annealed aluminum foil coated with Venture's CW cold weather solvent acrylic pressure sensitive adhesive. The malleable foil applies easily to both fibrous and sheet metal ducts and conforms to irregular surfaces. Venture Tape 3520CW excels in demanding temperature and humidity applications and provides superior performance and durability over a wide range of environmental conditions.
Venture Weatherproof Cloth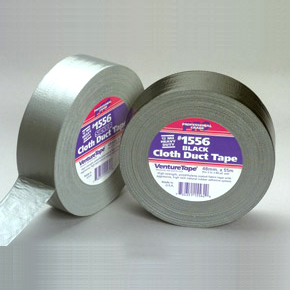 Product Description:
1556
Waterproof Cloth Duct Tape
A high strength, premium quality polyethylene coated cotton cloth tape coated with an aggressive, high tack, natural rubber pressure sensitive adhesive system. Adheres well to sheet metal duct and conforms well to corners and irregular surfaces.