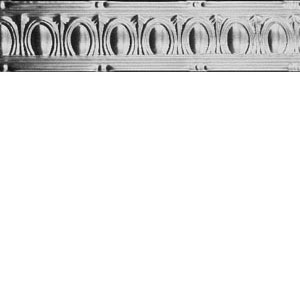 Product Description:
Everything you need to make your house even more lovely than before, is at your finger tips.
The Egg Joiner Cornice is a soothing rustic decorative piece that any wall would covet! This lovely cornice has a continuous pattern of little ovals (as shown in the picture) giving it's name, "Egg Joiner". Each cornice has a depth of 2.5 inches, a projection of 2.5 inches and a length of 48 inches!
For such a big dimension you would expect a very bulky and heavy weight right? Wrong. The Egg Joiner Cornice is super compact and relatively light weight!
Individually, they weigh only 2.5lbs!
That's not all we have to offer! Are you not entirely sure of what color you would want to display in your home?
Come browser our large selection of colors and characteristics which include, Tin, Lacquer, Clear coat, Power coated White, Copper, Chrome and Brass!
Make the EGGcellent choice and give your walls a second wind with the lovely Egg Joiner Cornice!
Cornice: 801
Projection: 2 1/2″
Depth: 2 1/2″
Length: 48″
Finishes
Tin
Lacquer/ Clear Coat
Powder Coated White
Copper/Chrome/Brass