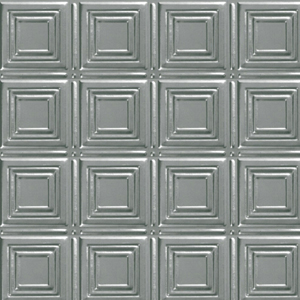 Product Description:
Tin Ceiling is one of the unique classic ceilings available nowadays. It is available in a wide variety of colors. As a matter of fact, you can paint it any color of your choice so long as you use oil based paints. You can use Times Square ceiling to spruce up your house and make it look great.
They are easy to install and the 6 inch square pattern that repeats itself in a concentric manner and makes it look elegant. This makes Times Square ceiling appropriate for many applications. The patterns on the ceiling are carefully embossed to make it maintain a classic look.
They are easy to install as well as maintain, they look good in small rooms as well as in large rooms. Unlike the plastic ceiling, the Times Square ceiling is durable and lasts for a long time. It has been manufactured from high quality materials. Times Square ceiling is available in 48 by 24 inch panels.
Available In:
LAY-IN (23-7/8″ X 23-7/8″)
NAIL-UP 2′ X 2′
NAIL-UP 2′ X 4′
Sized For One Person Install
Finishes:
Tin
Lacquer/ Clear Coat
Powder Coated White
Copper/Chrome/Brass