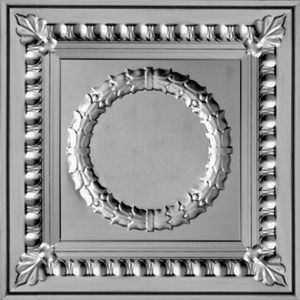 Product Description:
These Romanesque Tin Ceiling panels come with a particularly attractive design. They feature a circular central wreath, surrounded by a decorative square border with corner leaves. The overall effect is simple and pleasing.
There are several different finishes to choose from, depending on the look that you wish to achieve.
White gives a lovely clean crisp finish, perfect perhaps for a café or a kitchen.
Colored metals add warmth and coziness to a room, coming into their own in bars and restaurants.
Alternatively, you may wish to paint the panels a color of your choice. In this case, choose tin panels and use an oil-based paint to finish your ceiling.
Installation of these panels is remarkably straightforward. The drop in design enables a single person to easily install the entire ceiling. If you choose the larger size panels, you also have a nail in option.
Whatever you choose, these panels will add instant character and elegance to your indoor space. What was once a plain ceiling will become an eye-catching feature!
Available In:
LAY-IN (23-7/8″ X 23-7/8″)
NAIL-UP 2′ X 2′
NAIL-UP 2′ X 4′
Sized For One Person Install
Finishes:
Tin
Lacquer/ Clear Coat
Powder Coated White
Copper/Chrome/Brass