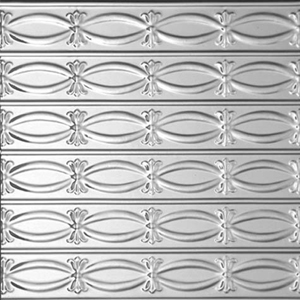 Product Description:
Add Elegance With a Ribbons-N-Bows Tin Ceiling
You may be looking at tin ceilings because of the decorative possibilities for restoration, remodeling or a new interior design.
Certainly they add elegance to a room.
But there are more reasons to choose them. Because they are durable and beautiful they add value to a property.
Tin ceilings also are moisture-resistant, less likely to crack, require minimal maintenance, fire-resistant, can hide imperfections, be in any color, and are easy to install.
Why a Ribbons-N-Bows Tin Ceiling?
When you study the array of tin ceiling patterns available, this design stands out because of its simple pattern. It would easily complement many design features in a room, adding rather than distracting.
Whether you are working commercially or a do-it-yourself-er the size of this ribbon-n-bows tin ceiling allows for a one person installation.
You can choose lay-in for drop ceilings or nail-up in two sizes. The following finishes are available: tin, lacquer/clear coat, powder coated white, and copper/chrome/brass.
Elegant, simple-use is only limited by your imagination.
Available In:
LAY-IN (23-7/8″ X 23-7/8″)
NAIL-UP 2′ X 2′
NAIL-UP 2′ X 4′
Sized For One Person Install
Finishes:
Tin
Lacquer/ Clear Coat
Powder Coated White
Copper/Chrome/Brass