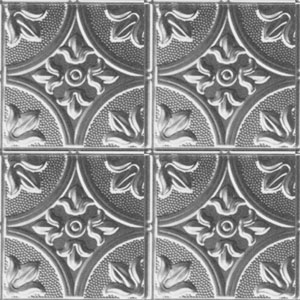 Product Description:
Queen Victoria ceiling tiles are available in copper, tin and aluminum among other styles of real metal ceiling tiles at affordable and competitive rates.
There is a huge selection to choose from with new styles always being added to the inventory from time to time.
The Tin ceiling in particular, come in multiple patterns that bring forth an exciting blend of elegance and simplicity.
All the patterns for tin ceiling and cornices are sized conveniently and do not have sharp edges to enhance installation by one person.
One can paint any color to the tin only finishes can according to their preferences using paint based on oil or one that is clear coated but has oil based polyurethane.
Most of these tin ceiling tiles are available in a wide array of dazzling finishes. In some, nail up panels directly adhere to wood substrates and are perfect for creating an authentic and seamless look to the ceiling.
There are also accurate head nails that are available in varying colors to complement the varying finishes.
Available In:
LAY-IN (23-7/8″ X 23-7/8″)
NAIL-UP 2′ X 2′
NAIL-UP 2′ X 4′
Sized For One Person Install
Finishes:
Tin
Lacquer/ Clear Coat
Powder Coated White
Copper/Chrome/Brass