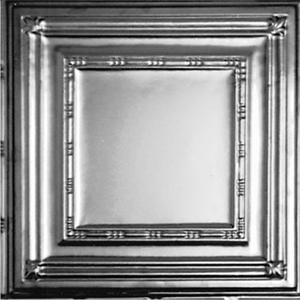 Product Description:
This ceiling pattern offers a unique way to provide added beauty to a room. Any room in your home providing living space and calling for a touch of attention-getting decor will be enhanced by this simple addition.
Installation is very easy. One person can handle the project in a short period of time. There is no need for a crew of workmen or costly equipment. The product is small enough (24 inches) to be handled easily by one person. Being very light in weight, it does not require a heavyweight to carry and install.
Making this object a focal point in the room, is only restricted by your imagination. Colors and finishes are your choice. Since the basic material is tin, a clear coat of polyurethane may be your choice. If the room calls for a special color, an oil based paint would be a simple finish.
This item is a beautiful way to add a touch of elegance to any home.
Available In:
LAY-IN (23-7/8″ X 23-7/8″)
NAIL-UP 2′ X 2′
NAIL-UP 2′ X 4′
Sized For One Person Install
Finishes:
Tin
Lacquer/ Clear Coat
Powder Coated White
Copper/Chrome/Brass